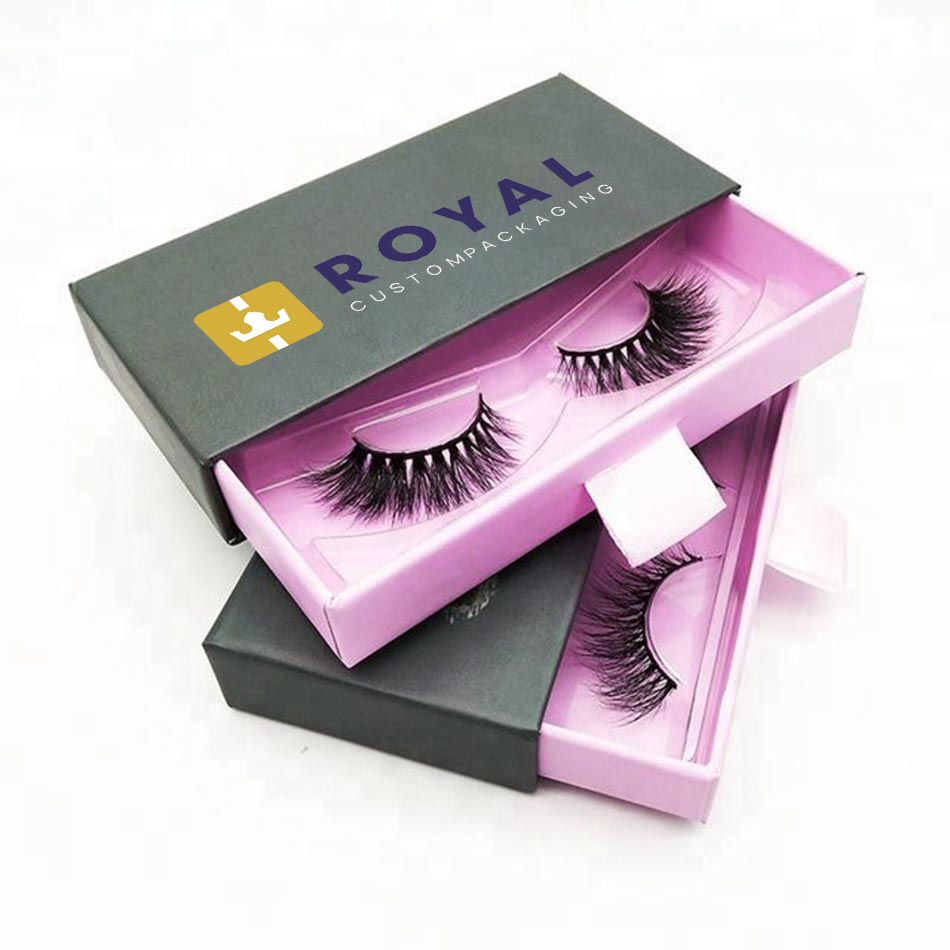 Voluminous lashes wrapped up in cost-cutting eyelash boxes! What more may a customer want? Introducing, custom eyelash boxes that will surely catch the eyes of your loyal customers. Marketing is perhaps the easiest and most efficient way to get customers to hoard around your product. Well, what is marketing if not the outer appearance of the product that you have designed?
Most of the everything matters! This ranges from color to the size and shape of the box or even the small details such as whether it opens up to reveal the product or showcases it through windows installed in the custom eyelash packaging. Customers miss out on nothing and we recognize that. We make sure there is a stark difference between your custom printed eyelash boxes and any other custom eyelash boxes that may exist in the market.
Do not judge a book by its cover? But that is the very thing customers choose to do the second they walk in! Well, what if we came up with an innovative way to make sure the inner beauty matched the outside? (insert website name) brings to you, our valued customers, eyelash boxes that are custom made, according to your needs alone so that every time a customer chooses to open your eyelash box, your unique product shines through!
| | |
| --- | --- |
| Dimensions | All Custom Sizes & Shapes |
| Printing | CMYK, PMS, No Printing |
| Paper Stock | 10pt to 28pt (60lb to 400lb) Eco-Friendly Kraft, E-flute Corrugated, Bux Board, Cardstock |
| Quantities | 100 – 500,000 |
| Coating | Gloss, Matte, Spot UV |
| Default Process | Die Cutting, Gluing, Scoring, Perforation |
| Options | Custom Window Cut Out, Gold/Silver Foiling, Embossing, Raised Ink, PVC Sheet. |
| Proof | Flat View, 3D Mock-up, Physical Sampling (On request) |
| Turn Around Time | 4-6 Business Days, Rush |
The most reliable and trustworthy online packaging solution provider!
Often when customers enter a shop, they themselves have no clue about what they want. In order to avoid this, shop owners place customer service representatives around the shop that serve to guide customers and make sure they get what they desire. This backfires, however, at times when there is simply too much inflow and not really any balance when it comes to the customer/representative ration. Thus, even if your eyelashes are of top quality, the customer may not gravitate towards it. What he will do is run towards the shiny eyelash boxes. Humans are not much different from birds in that regard. Don't worry! We got you covered with our eyelash packaging design. Shop for our custom eyelash boxes and wow your customers with the innovative designs that we present to you here at royalcustompackaging.
Who does not want variety for their eyelash boxes?
Royal Custom Packaging values its customers and recognizes that even they get bored with the lack of variety they are presented with when it comes to custom eyelash boxes online. We understand your need for greater options as you want your personalised eyelash packaging to appear a certain way and for a certain audience. We got you covered with our cheap eyelash packaging!
The making of your custom eyelash boxes
We provide custom eyelash boxes in any and every shape. This could go from the traditional rectangular shapes to things like circle eyelash packaging or glitter eyelash packaging. It depends solely on what your design team requires your eyelashes to be encased in or what our design team suggests upon your asking. All we require from you is that you state the dimensions you need for your eyelash boxes namely their length, width, and height. We will take care of the rest. Different kinds of eyelashes require the usage of different kinds of paper in the eyelash packaging process. We try to cater to every possible demand that may exist ranging from thickness to style of closing. Eyelashes are usually light and could do with the straight tuck or reverse tuck boxes that we provide. If you prefer another style for your eyelash packaging wholesale, however, we offer many.
Making your eyelash box stand out!
Customers usually opt for a paper card eyelash box that comes with a window so that they can judge for themselves, without opening up the product, whether the thickness of the lash is what was promised on the box! No one has the time to sample the many sample lashes available on shelves nearby and for split-second decisions, window cut lashes packaging box is what customers opt for. We offer all kinds of modifications for wholesale custom lash boxes when it comes to the shape of them. Although we do offer many different kinds of shapes, what is usually availed is the rectangular box. In order to make your eyelash boxes pop we suggest different kinds of (gold or silver) foiling. We also hold ourselves personally accountable for your unique eyelash packaging standing out amongst many others in the market. Rejuvenate your eyelash boxes with things such as custom eyelash labels or other forms of DIY eyelash packaging and make them look even more interesting with ribbons, bows or the many other options that we provide.
Finish with a bang!
Even when it comes to the finishing of your eyelash packaging, we leave no stone unturned. If you have ever turned away from a product just because it was not as shiny as some of the others, you would know what we mean. We offer gloss lamination, matte lamination, gloss AQ and UV, matte UV, embossing and so on and so forth. Avail our expert finishing options for your custom eyelash boxes now!
Go green or go home!
In a world that is experiencing a swift dwindling of resources, we just want to do what is best for it. As small as our contribution may be, no change is too small for the children that we are leaving this world to. Here at Royal Custom Packaging, we produce completely biodegradable recyclable custom eyelash packaging USA based that would not play any role in producing more wastage than that which has already been put out. Customers recognize that and, more importantly, encourage you for that by buying your products!
Even your product can look just as good!
Sifting through the millions of search results Google has to offer must have led you to the same outcome every single time. How will you ever be able to afford it? We understand that not every product comes from the big fish in the pond. We like to support small fish too! At our rates, even you will be able to afford those cheap custom eyelash boxes and other packaging services that you were once envious of. Ever wonder how we do it. It is a simple two-step process. We firstly focus on providing wholesale custom eyelash packaging box services that automatically bestow you with your economies of scale. These cut your costs enormously. We then make sure to provide you with various discounts on shipping costs too. Log in now and watch your sales climb as you avail our cheap custom eyelash boxes!
Why wait for custom lash packaging? Just come to us!
We understand that every business owner just wants to get their product onto the market as soon as they can. This is why, even though the time limit depends on when you place the order of eyelash boxes wholesale, we try to make sure it reaches you approximately 6-8 days after you place it. We also make sure we are available for you around the clock for any urgent questions that you have so that none of your worries go unanswered. However, with our 2D and 3D mockups of custom eyelash boxes and on-demand in-person sampling, mistakes regarding private label eyelash packaging are simply out of the question.
Reached here by mistake?
Not looking for custom eyelash packaging? No worries. Now that you are here, why don't you scroll through the many varieties of boxes such as those relating to cosmetic packaging or other custom boxes that we do offer and see if your time is worth investing with us? We promise we will not disappoint!