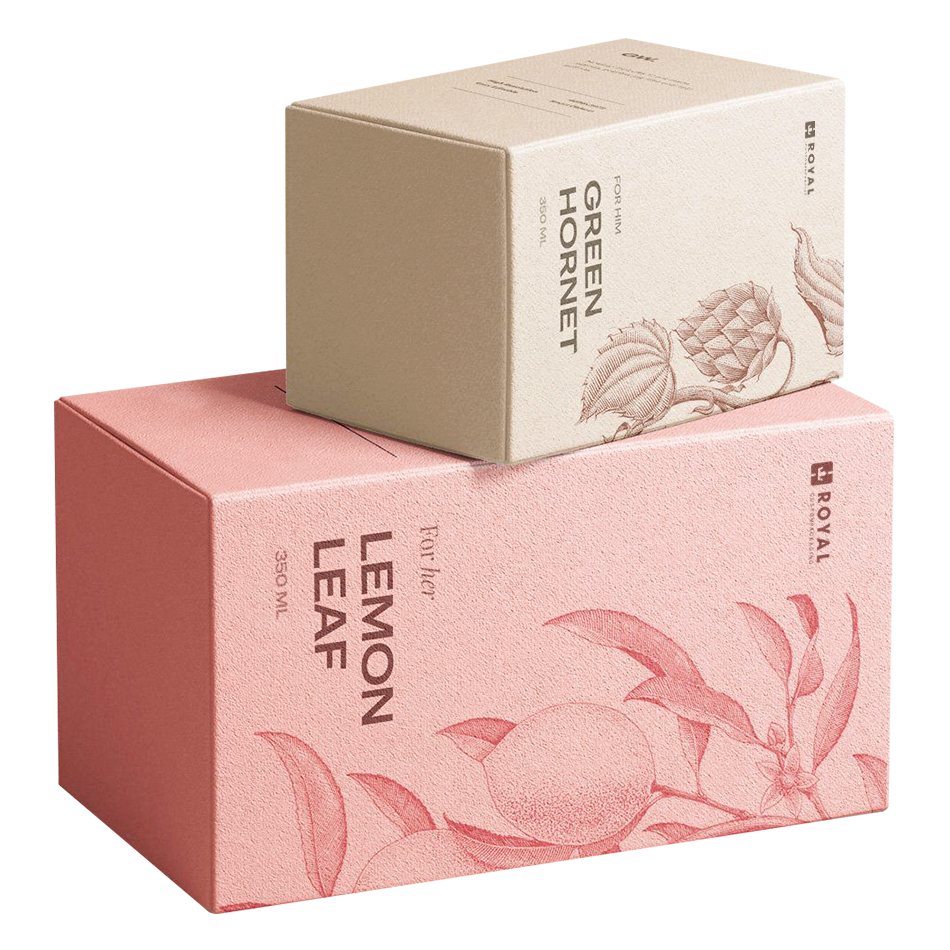 Foundation boxes; Foundations have been such a big part of the beauty routine for some time now. First recorded by the ancient Greeks, this beauty trend has become a worldwide phenomenon with no signs of slowing down. As one of the largest cosmetic products in the market right now, foundation packaging becomes important of the whole process. While customers want a high-quality product, they usually decide what a high-quality product through the products packaging is. We say don't trust a book by its cover, yet that's literally all that everyone does. So why should we let the cover not be up to par? Here at royalcustompackaging, we provide a large variety of different custom foundation boxes just to fit your needs. With unlimited customization, we guarantee that we will be able to make the foundation boxes of your dreams!
| | |
| --- | --- |
| Dimensions | All Custom Sizes & Shapes |
| Printing | CMYK, PMS, No Printing |
| Paper Stock | 10pt to 28pt (60lb to 400lb) Eco-Friendly Kraft, E-flute Corrugated, Bux Board, Cardstock |
| Quantities | 100 – 500,000 |
| Coating | Gloss, Matte, Spot UV |
| Default Process | Die Cutting, Gluing, Scoring, Perforation |
| Options | Custom Window Cut Out, Gold/Silver Foiling, Embossing, Raised Ink, PVC Sheet. |
| Proof | Flat View, 3D Mock-up, Physical Sampling (On request) |
| Turn Around Time | 4-6 Business Days, Rush |
The most reliable and trustworthy online packaging solution provider!
Custom foundation boxes can improve your business and drastically increase sales. By creating foundation boxes that are uniquely you, you create a signature look. According to new studies, creating a signature look can improve brand recognition and purchases up 23%! The best way to create a look that is solely your brand is by creating a look from scratch. While still looking at the market as a whole, create cosmetic packaging that fits your product perfectly. This allows for a unique experience that cannot be replicated by another brand, giving you the market edge. Here at royalcustompackaging, we guarantee quick, cost-effective and unique custom foundation boxes that will help you stand out in the market. So whether you're a small retailer or a well-established business, we ensure complete satisfaction.  Here are a couple of reasons why you should be choosing us for packaging for cosmetic products;
Unrestricted simple customization for all foundation boxes
The first step to our customization is the simple steps. Changes to color, font, shape, size, and printing can have a dramatic change to the perception of your custom foundation boxes. Depending on the message you want to send to your audience, a combination of a bunch of customization can greatly improve purchasing decisions. Let's say you want a simple, elegant box that promotes your brand.  You can use blank cosmetic boxes, use minimal contrasting colors, with the brand name in bold. This helps create a dynamic and interesting looking foundation box that improves brand recognition. A number of different options exist too, just to make your box perfect!
Limitless advanced customization on all custom foundation boxes
If the simple customization options are not enough, we also provide advanced options. This is done to ensure that all your design needs are met.  Within our advanced options, we provide changes to the coating, structural and material changes and add-on options. Have you ever looked at a product a felt it was unfinished? Chances are it was a missing coating. This step adds a final polished look to your custom foundation boxes. Our coating options include gloss, matte and Spot UV. Another way of making your product stand out is through changing the structure and material of the custom foundation packaging. Let's say you want to display your product without taking it out of the packaging? You could create a window cut out! Changes to the structure can help you stand out in such a large market. You could also use embossing, raised ink, gold/silver foiling and PVC to make changes to the structure. Furthermore, changes to the material can change perception too. Our material options include eco-friendly kraft, e flute corrugated, card stock and bux board. Our final customization option is the use of add-ons. This can either make the product more aesthetically pleasing or add a new feature to the foundation packaging. Our options can be added to our bows, laces, ribbons, and handles.
Experience of opening packaging
The experience of opening a product has always been a big and overlooked part of the custom foundation packaging process. The feeling a customer gets when opening a brand new product is indescribably great. In the world of social media, an added benefit has been given to businesses; free advertising. Customers who receive or buy unique and interesting custom foundation boxes have a tendency to share the process on social media. This form of customer advertising acts as a form of new-age testimonial. Businesses need to keep this in mind when creating packaging for any product.
Cost-effective process
Foundation boxes wholesale may seem like an expensive process. The truth is that it really depends on how big of an order and what all you want on your foundation packaging boxes. But to ensure the costs do not go beyond a reasonable point, we implement a few policies. Firstly, there are no dye or plate charges added. This is done to ensure that you may choose as many customization options you may want for your cheap custom cosmetic boxes without worrying about costs. Secondly, we provide free shipping anywhere. Thirdly and finally, our turnaround time is 6-8 business days. However, for a small fee, you may place a rush order and receive your order before those days.
Customer care
As a business that mostly caters to other businesses, we understand the importance of open communication between us. Here at Royal Custom Packaging, we provide a 24/7 customer care hotline to ensure you can reach us at all times. This allows for you to be able to know exactly what is going on with your custom printed foundation boxes at what time. Furthermore, this allows for you to converse with our graphic and design team, just to get your design needs across. Furthermore, we send a 2D and 3D prototype to all clients if asked, just so you know exactly how the foundation boxes will look like.
Go-green with Royal Custom Packaging
As we mentioned earlier, our world is changing. But that isn't always a good thing. Global warming and environmental degradation has caused a number of problems for humanity as a whole. To do our part, royalcustompackaging has decided to make sure all our custom boxes can be;
Reusable
Recyclable
Biodegradable
Custom foundation boxes aren't the only thing we do. Here at royalcustompackaging, we make a large number of the different cosmetic box. These include mascara box packaging, lotion boxes custom makeup boxes, custom perfume boxes and more. Go and check them out right here!