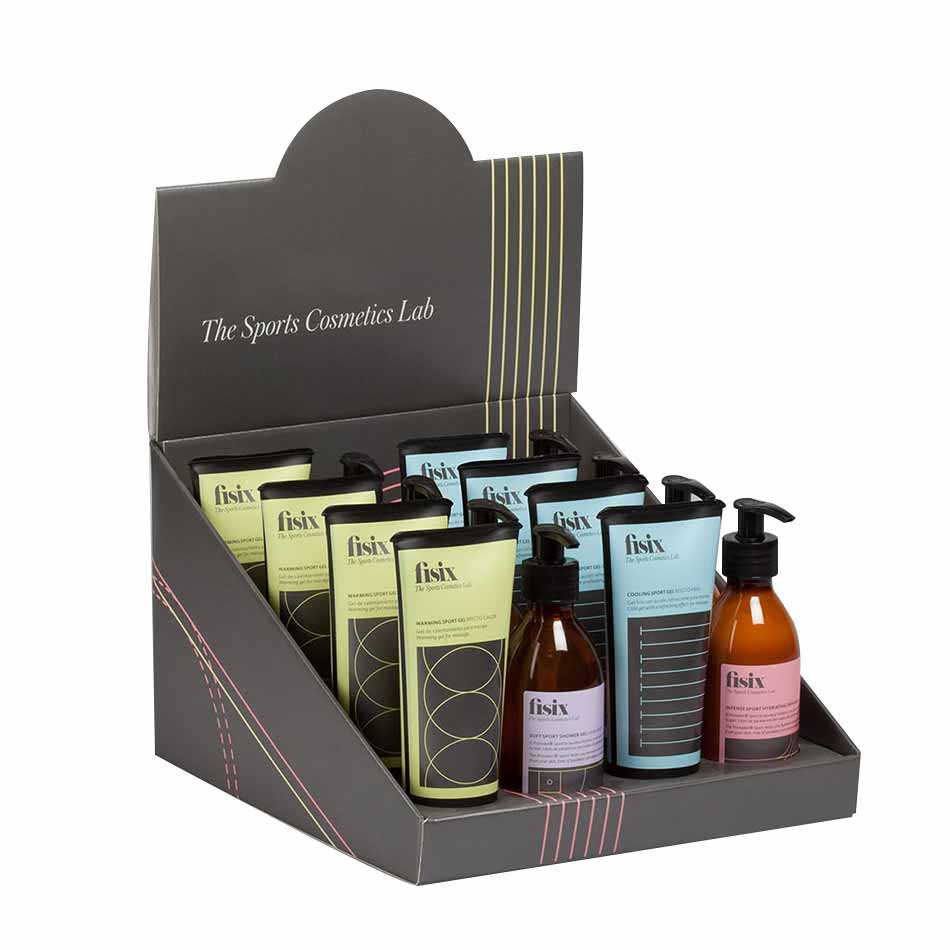 Display boxes are a great way of showcasing your products in the store. Ranging from cosmetic products to confectionaries and tobacco products, nearly anything can be displayed in this form of packaging. Custom display boxes allow for you to be able to create distinct and unique packaging that best reflects your brand while also encouraging sales. The concept of putting your product on display is important, as that is how you can help establish your product in the market. Allowing for complete customization is how we ensure you get the right display packaging you want!
| | |
| --- | --- |
| Dimensions | All Custom Sizes & Shapes |
| Printing | CMYK, PMS, No Printing |
| Paper Stock | 10pt to 28pt (60lb to 400lb) Eco-Friendly Kraft, E-flute Corrugated, Bux Board, Cardstock |
| Quantities | 100 – 500,000 |
| Coating | Gloss, Matte, Spot UV |
| Default Process | Die Cutting, Gluing, Scoring, Perforation |
| Options | Custom Window Cut Out, Gold/Silver Foiling, Embossing, Raised Ink, PVC Sheet. |
| Proof | Flat View, 3D Mock-up, Physical Sampling (On request) |
| Turn Around Time | 4-6 Business Days, Rush |
The most reliable and trustworthy online packaging solution provider!
Display boxes can be used as a way to define you in markets. These boxes are best for products that may require assistance in staying upright. However, that is not the only time they are used. The versatility of such packaging is why you can find this in nearly any department store. Selling things like lipgloss, tobacco products, and food, this form of packaging is definitely an effective one. Here are a couple of reasons as to why you should use for your custom printed display boxes;
Best Custom Display Boxes
The smallest changes to your custom Display Boxes can really benefit the overall outlook of your product and brand. The simplest changes can be done to the font, shape, size, color, and printing of the packaging. As mentioned earlier, we have complete customization here at Royal Custom Packaging. Creating an interesting shape with your custom display packaging is sure to gain customer attention. Wouldn't your eye go to the triangle in a row full of rectangles? Playing with expectations is part of the way to gain customer attention. Furthermore, since these products come in different industries, the use of colors or graphics is a good way to attract customers and showcase your product properly. Putting colors or animation to your retail display boxes related to your industry helps create a connection for your Display Boxes.
Limitless advanced customization on all custom display boxes
If these were not enough for you, we have our advanced options just so you can make the perfect packaging. Our advanced options include coating options, changes to the structure and material and add-ons. Have you ever looked at a product display box and felt that it looked unfinished? More likely than not, it didn't have coating done. To make great custom made display boxes, you need to put a coating on it to give it that final finishing look. Here at Royal Custom Packaging, we provide a number of different coating options. They all fall into 3 categories of gloss, spot UV and matte. Furthermore, changing the inherited structure of the packaging can truly benefit you in distinguishing yourself from the rest. Let's say you're displaying a product that you want to look expensive. Try using gold/silver foiling! Or embossing or raised ink! You can also use PVC as well with us. Material changes can also be helpful for your custom Display Boxes. Let's say you want a more protective cover for your product. E-flute corrugated or Kraft is pretty sturdy, great for providing protection for your product. We also have cardboard display boxes and bux board. Add-ons are also a great way to change the way your display packaging look to your customers. Add ribbons, bows, and laces to greatly enhance your products placement in the market. Even add a handle!
 Experience
The experience of opening custom Display Boxes has become an advertising tool. With social media, customers have started to post their favorite packaging on their newsfeed. This form of new-age testimonials provides an interesting new way of free promotion. The more interesting your custom Display Boxes are, the more likely a customer will be to post it. This is true even for people who aren't your direct customers! People nowadays post anything interesting they find. So if your custom display packaging is out-of-this-world great, then chances are it will find its way onto social media.
Cost effective process
Creating display boxes wholesale can seem like an expensive ordeal. The truth is it really depends on the order. However, we do provide a number of different policies and services to ensure your costs are do not go too high. Firstly, we have no dye or plate charges. So don't worry about how many customization you make! Secondly, we provide free shipping anywhere. Thirdly, are delivery time is 6-8 business days. However, for a small fee, you can receive your display packaging earlier.
Customer care
Custom Display Boxes are a unique and delicate product that requires packaging that fits it needs. It might be hard to trust another business with such a big part of your business. We recognized that here at our custom packaging company, and as such, provide a number of services to make this process easier for you. For one, we have a 24/7 customer care hotline. This is done to ensure that you can contact us at any time. Our team, whether sales or graphics, will always be available for you to talk to. Furthermore, we can provide a 2D and 3D mockup for your Display Box. This is done to ensure that you know exactly what you're getting before the bulk order is placed.
Go green with Royal Custom Packaging
Our planet is in trouble. With pollution at an all-time high, we need to do something before it's too late. And this emotion is one shared by both customers and other businesses. This has drastically increased the demand for more environmentally friendly products. As a result, all of our Display Boxes can be;
Reusable
Recyclable
Biodegradable
Custom Display Boxes are not the only thing we produce. Go check out the rest of our custom printed boxes right now!