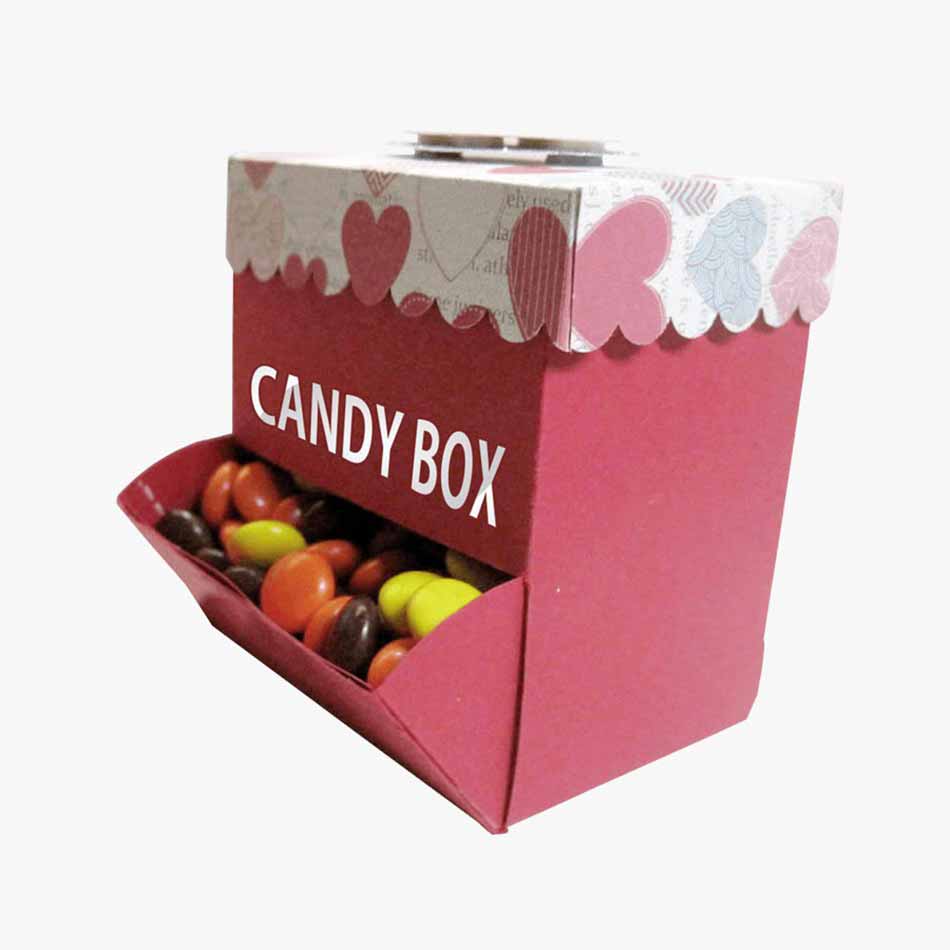 Who doesn't like candy? Usually, something that is marketed to kids of all ages, it recently gained popularity in the market when it spread out onto the adult population as well. Considering the different varieties and flavors that candy comes in now, the target market seems to be wider than ever before. Customers love candy and what they love even more is the variety of candy boxes that they come in. They like nothing better than to unbox their personal stashes of candy on some special occasion, or even when they are just feeling under the weather.
Contrary to popular belief, customers do not really go for what is inside immediately. The way that our brain is wired pushes us in the direction of outer appearances and it is seldom the case that a customer gravitates towards a product merely due to the benefits that they would derive from its use. This is the sole reason why we push for the usage of better custom candy boxes so that the customer sees them as a reflection of what you are supplying to them and chooses to work with your candy boxes instead of some other.
| | |
| --- | --- |
| Dimensions | All Custom Sizes & Shapes |
| Printing | CMYK, PMS, No Printing |
| Paper Stock | 10pt to 28pt (60lb to 400lb) Eco-Friendly Kraft, E-flute Corrugated, Bux Board, Cardstock |
| Quantities | 100 – 500,000 |
| Coating | Gloss, Matte, Spot UV |
| Default Process | Die Cutting, Gluing, Scoring, Perforation |
| Options | Custom Window Cut Out, Gold/Silver Foiling, Embossing, Raised Ink, PVC Sheet. |
| Proof | Flat View, 3D Mock-up, Physical Sampling (On request) |
| Turn Around Time | 4-6 Business Days, Rush |
The most reliable and trustworthy online packaging solution provider!
Research suggests that the way something looks, and how presentable it is, goes a long way into the way someone reacts to it. The font on a particular candy box, if funky for example, could pull in children but would not do the same for adults. Adults could turn towards more sophisticated styles. Depending on your target audience, you too could freshen up the look of your product today. All it needs is a couple of touches from us here at royalcustompackaging and it is good to go!
When it comes to our service, you do not have to wait!
Who wants to wait for hours at an end even after they have received the wrong order for their custom candy boxes. Who wants to do business with a company who's office hours are the only time that they are willing to help. Do not worry! We are here for you 24/7. Your questions are of the utmost importance to us and we make sure to hire the best representatives that will leave no stone unturned when it comes to answering them. We also claim to be beside your side every step of the way as you sift through designs for custom candy boxes and choose what exactly you need from us. For your comfort and just so mistakes are avoided, we offer 2D and 3D mockups for your candy boxes that you can then return if deemed unsatisfactory. We also offer in-person sampling so you can rest assured that you are most definitely getting what you ordered. You need your profits at your doorstep as fast as customers want to receive their products. We understand that! This is the reason for our fast delivery services. We offer express delivery at a minimal extra fee. Our delivery time of custom printed candy boxes depends on when the order for your custom candy packaging is placed and how big it is in size, however, we try to get your packages to you within 6-8 days after the order is placed.
Order your intricately designed candy boxes now!
Custom candy boxes for candies come in all shapes and sizes, however, that is not what you really want do you. What you need is a box that would catch the attention of any passerby that looks upon it. Aren't you tired of the lack of variety for candy packaging that you may have come across on many websites? You want your product to look a certain way and target a certain audience and that is why we exist! We make that happen. We provide all kinds of shapes and sizes on demand for custom candy boxes from traditional sort of cubical and rectangular shapes to more funky pyramid or cylindrical styles. Some of the kinds we work on are, clear candy boxes, window candy boxes, truffle boxes wholesale, chocolate packaging, small candy boxes wholesale and hard candy packaging. All you have to do is tell us the dimensions of your product and we will make it happen. If you are confused you may refer to our design team which will be more than happy to assist you. We also provide a variety of options for custom candy boxes when it comes to the kind of packaging style that is used in the product. We try to cater to every kind of demand, be it for heavier candy that may require heavier corrugated boxes or even simple straight tuck or reverse tuck ones. The options are unlimited and they all depend on you. Do you want to add things on just to increase the appeal of your product wrapped in top notch beverage packaging? Scroll through our many gold and silver foiling options or other add ons such as ribbons, bows or even styles that have a window cut implemented onto the box and so on.
Even you can afford top-notch custom candy boxes!
Chances are, you clicked on candy boxes and reached here. Where do you go from here? You must have a million questions in your head regarding wedding candy boxes wholesale and the most important one amongst those would most definitely be whether you can afford our services. Be it small or big, we do not discriminate when it comes to business. We are willing to provide you with the comfort you would receive at a big chain store that specializes in packaging. At the same time, we maintain pricing of candy gift boxes wholesale for customers that we know deserve the best anyways. Shop for our candy boxes wholesale and watch your sales climb as you avail our top notch services. Our policies provide you with free shipping too on candy packaging based on where you are located or discounts if you order in bulk through our wholesale services. Log in now and watch your sales climb as you avail the cheap yet top-notch custom candy boxes we have to offer.
Go green!
In a world that is experiencing a swift dwindling of resources, we just want to do what is best for it. As small as our contribution may be, no change is too small for the children that we are leaving this world to. Here at royalcustompackaging we produce completely biodegradable recyclable custom food boxes that would not play any role in producing more wastage than that which has already been put out. Customers recognize that and, more importantly, encourage you for that by buying your products!