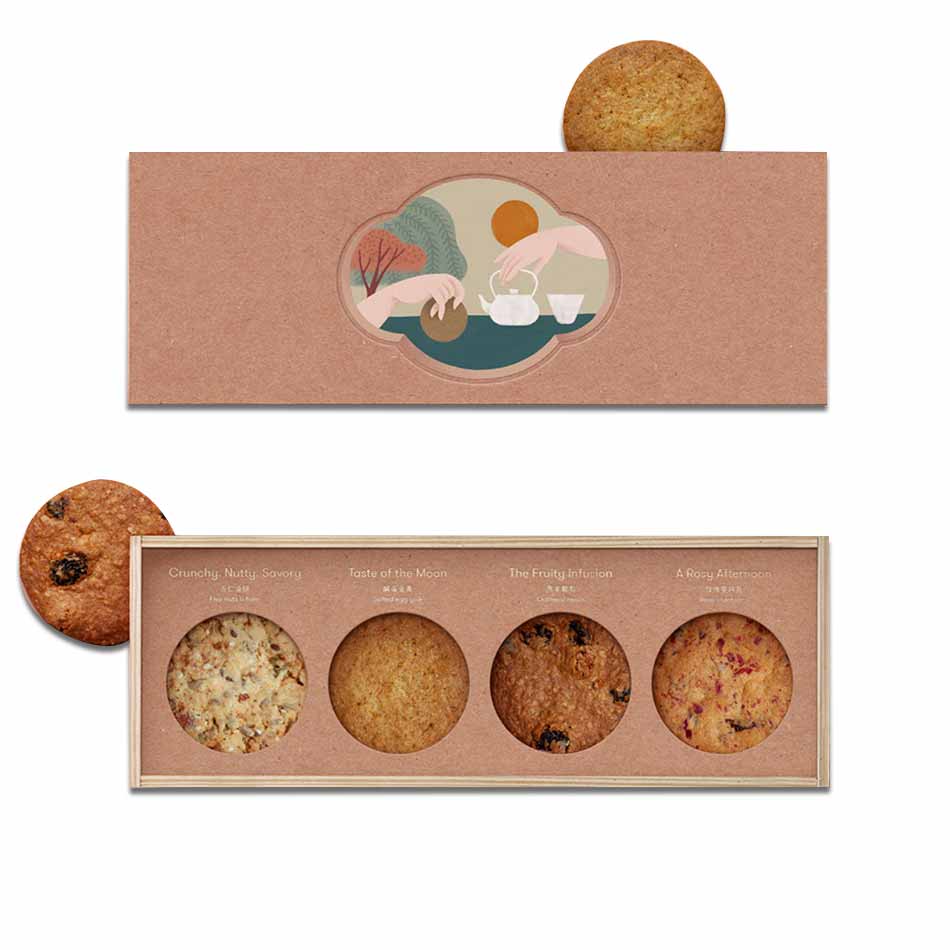 Cookie boxes; Baked goods have always been a large part of human existence. Cakes, brownies, and cookies have always been a huge part of society. As a result, they have become increasingly popular over time. This has created one of the largest industries in the world. Cookies have always been a great snack. This has made distinguishing yourself from other brands a lot harder. As such, cookie boxes have become a huge part of our business. With royalcustompackaging, you will have the complete freedom to make sure your packaging is exactly the way you want it. Using custom cookie boxes can drastically improve your business. You can make packaging that is distinct to your business, improving brand recognition and sales all in one!
| | |
| --- | --- |
| Dimensions | All Custom Sizes & Shapes |
| Printing | CMYK, PMS, No Printing |
| Paper Stock | 10pt to 28pt (60lb to 400lb) Eco-Friendly Kraft, E-flute Corrugated, Bux Board, Cardstock |
| Quantities | 100 – 500,000 |
| Coating | Gloss, Matte, Spot UV |
| Default Process | Die Cutting, Gluing, Scoring, Perforation |
| Options | Custom Window Cut Out, Gold/Silver Foiling, Embossing, Raised Ink, PVC Sheet. |
| Proof | Flat View, 3D Mock-up, Physical Sampling (On request) |
| Turn Around Time | 4-6 Business Days, Rush |
The most reliable and trustworthy online packaging solution provider!
Cookies have always been a huge part of human society. The first recorded cookies were in the 8th century. Part of the reason they were so popular in the past is that they were easy to carry around. This has translated into our day and age, making cookies one of the biggest confectionaries out there. As a result of their large popularity, cookie boxes have started to play a big role in the purchasing decision of customers. We may say never judge a book by its cover, but the truth is that's how customers make their purchasing decisions. Customers are in the market for a high-quality product, and packaging is how they decide which product is high quality. Enter custom cookie boxes; your one-stop shop for all your design needs. With complete freedom to customize your packaging, you will never go back! Here are a couple of reasons as to why you should choose us for your custom cookie packaging;
Unlimited customizations for your cookie boxes
The first step towards creating your dream cookie box is changing the simple stuff. Changes to your font, size, shape, color scheme and printing can have a dramatic impact on purchasing decisions. Remember, your packagings job is to entice your customers. As a result, creating an appealing box should be at the top of your list! Let's say you're looking for Christmas cookie packaging. Using large fonts or a Christmas color scheme(red, white and green) can help customers instantly identify your packaging for what it is. You could even print a Christmas tree on your Christmas cookie boxes or on your custom printed cookie boxes! If this were not enough, we even make changes to the size or shape of your custom cookie boxes. Wouldnt your eye goes directly to the gable-shaped box in a row full of rectangular custom cookie box packaging? We do nearly any size or shape for your cookie packaging.
Limitless advanced customizations on all custom cookie boxes
If these were not enough for you, we have a ton of advanced setting that you can avail. Our advanced customizations for cookie packaging boxes wholesale include coating, add-ons, and changes to structure and material. Have you ever happened upon a box and felt it didn't look complete? Well chances are, it was missing its coating layer. It may not seem that important, but the coating can truly change the way your cookie packaging is seen. Here at royalcustompackaging, we provide spot UV, gloss and matte coating. Furthermore, you can put add-ons to give your packaging the extra feature others don't. Add ribbons, bows or laces to improve the aesthetics of your custom cookie boxes. Or even add a handle to make it easier for your customers to carry around! Additionally, you can make changes to the material of the holiday cookie boxes wholesale. Looking for a cookie packaging paper? Use cardstock as your packaging material to gain paper materials. Or looking for clear cookie boxes? Just let us know and we'll figure out which material works best for you! Our other material options include bux board, e-flute corrugated and eco-friendly Kraft. Finally, you can make changes to the inherited structure of the cookie packaging boxes. Want to entice your customers? How about using a window cut out to showcase your product without taking it out of its protective packaging? Or maybe add PVC to create more elegant cookie boxes. Our other structural changes in decorative cookie boxes wholesale include embossing, gold/silver foiling, and raised ink.
Experience of opening cookie boxes
The experience of opening up custom cookie boxes is an unmatched experience. In today's day and age, these types of experiences are no longer private. Social media has made a society that is constantly posting things to their newsfeed. This, while it has its problems, has created a business opportunity for businesses. Interesting packaging get's posted by customers. The more interesting your custom cookie packaging is, the more likely it will be posted. And this doesn't just apply to your direct customers! People who don't even buy certain products will post an interesting box if they see one. This form of free promotion cannot be overlooked by businesses, and it is certainly not overlooked by us.
Cost-effective process for wholesale cookie boxes
Are you looking for high quality and cheap cookie boxes? Well, you've come to the right place! Here at Royal Custom Packaging, we do our best to provide the cheapest and highest quality products for all of our clients. While costs do differ between orders, we implement a few policies to ensure your costs do not go too high. Firstly, there are no dye or plate charges on any of our custom cookie boxes. So have fun customizing your Christmas cookie boxes wholesale! Secondly, we provide free shipping anywhere. Thirdly and finally, we have a delivery time of around 6-8 business days. However, for a small fee, you can place a rush order to receive your packaging before.
Customer care
As a business that works with other businesses, we understand the importance of communication. As a result, we have a 24/7 customer care hotline. So if you have any questions at any time of the production process, just give us a ring! We are always available to talk. Furthermore, we can send a 2D and 3D mockup of your cookie boxes. This is done just so you know exactly what you're getting.
Go green with Royal Custom Packaging
Our planet is dying. With pollution at an all-time high, it has become our responsibility to find sustainable ways of production. As a result, all of our custom cookie packaging can be reusable, recyclable and biodegradable. Custom cookie boxes are not the only things we produce. Go check out our amazing custom food packaging right now!