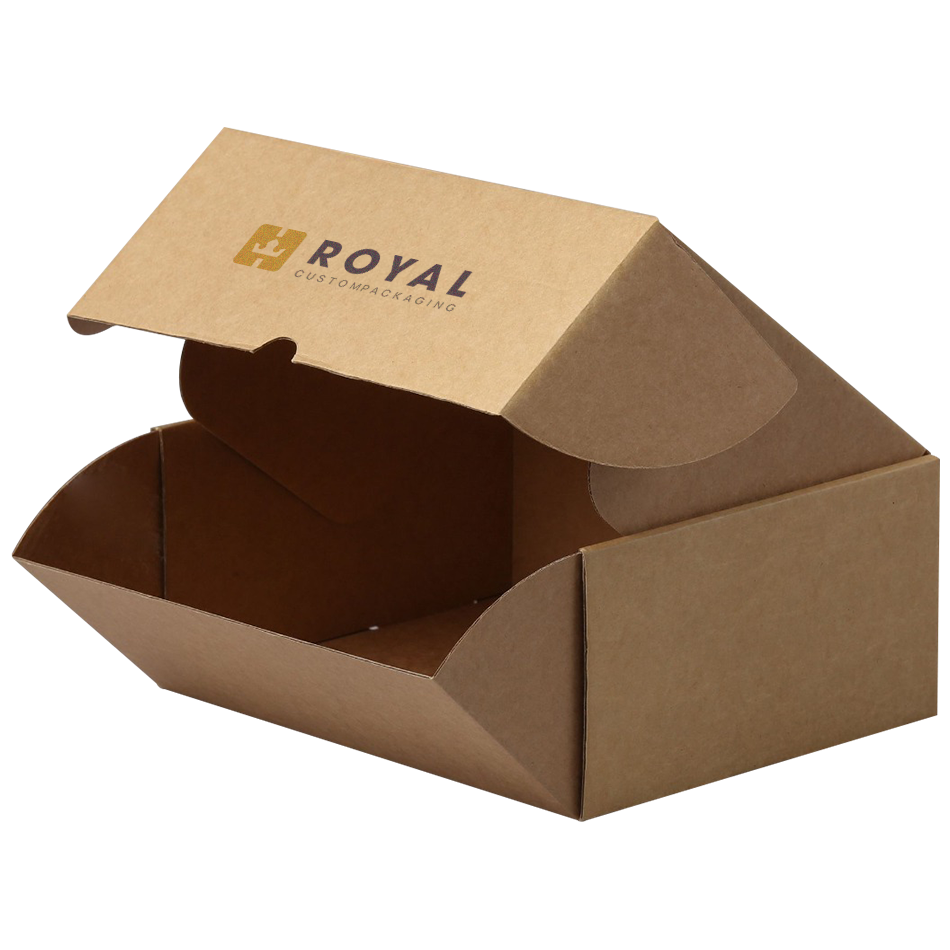 Corrugated boxes; Are you looking for corrugated boxes for sale or storage use? Known for their protection, corrugated packaging products can provide a safe and sturdy home for your product. Able to stand wear and tear, custom corrugated boxes have become all the rage in businesses and delivery. It allows you to create inventive and brand consistent packaging. This helps create a more subtle form of advertising, while still protecting the items within. Come check out our collection, and see if we're the right fit for you!
| | |
| --- | --- |
| Dimensions | All Custom Sizes & Shapes |
| Printing | CMYK, PMS, No Printing |
| Paper Stock | 10pt to 28pt (60lb to 400lb) Eco-Friendly Kraft, E-flute Corrugated, Bux Board, Cardstock |
| Quantities | 100 – 500,000 |
| Coating | Gloss, Matte, Spot UV |
| Default Process | Die Cutting, Gluing, Scoring, Perforation |
| Options | Custom Window Cut Out, Gold/Silver Foiling, Embossing, Raised Ink, PVC Sheet. |
| Proof | Flat View, 3D Mock-up, Physical Sampling (On request) |
| Turn Around Time | 4-6 Business Days, Rush |
The most reliable and trustworthy online packaging solution provider!
Custom corrugated boxes have been all the rage in the past few decades in office space. As a way to store items while still creating a unique and brand consistent package. Every surface is an opportunity to market and advertise. In more recent time, delivery companies have started to take advantage of this form of self-promotion. Look at the way Amazon creates simple yet effective packaging with their corrugated boxes. Packaging that can both protect and promote is a huge plus point for everyone! Understand that, custom corrugated boxes can transform simple daily business transactions as tools for self-promotion. Furthermore, with our multiple customization options, you will be guaranteed a great product that will suit your every need. Here are a couple of reasons you should choose us for your corrugated boxes;
Unrestricted simple customization options for your corrugated boxes
Basic changes to default packaging can really make a difference to your product's perception in the market. A unique size or shape will instantly grab the attention of any buyer passing by. Wouldn't your eye go straight to the pyramid-shaped corrugated box in a row full of regular square boxes? Even size makes a difference in terms of how people look at your product. We provide nearly any shape and size you may be able to think of. Just send us the dimensions and we'll figure out a way for your corrugated boxes wholesale! Moreover, changes to font, color scheme and even what's printed on the corrugated boxes can really make a difference to product perception. Let's say you want to create an association with nature. Using natural, light colors like green and blue help create that association. Or let's say you're looking for simple white corrugated boxes. We can do that too, just the way you like!
Limitless advanced customization for your custom corrugated boxes
If these weren't enough, we have a large variety of different and more advanced customization options just for you. Having add-ons to your corrugated packaging can become your signature look! You can add a bow, laces or ribbons to make your colored corrugated boxes different. Furthermore, you could also put a handle on it! That way your customers find it easier to carry around. Furthermore, you can make changes to the structure of the material of your corrugated cardboard box. For example, let's say you want to give your box a more expensive look. You could add gold/silver foiling to the custom corrugated boxes. Or use PVC sheet to create a more elegant look. Embossing and raised ink can help create a sleek and sophisticated look, while also playing with the customers' sensory experience. Window cut out is also available, being able to display your product and protect it. Finally, you can put a finishing layer of coat. This final step can turn your simplistic custom corrugated packaging into art. Our coating options include matte, gloss and spot UV.
Experience
Part of packaging is the experience of unpacking the product. The customer truly cherishes the experience of opening new custom corrugated boxes. This experience needs to be preserved or even improved upon by manufacturers as a way to stay unique. With the advent of social media, this process has become an advertising platform too. When customers receive interesting corrugated packaging, the customer posts the packaging or the process of opening the packaging on their social media. This allows for free advertising from a customer who has already purchased your good. Our world is changing, and like all industries, corrugated boxes need to keep up with the times.
Cost-effective process
Most business hears our services and assumes our costs are high. Honestly, it varies between orders. However, we do institute a couple of policies that help alleviate costs for you. Our rates are comparatively reasonable from many corrugated packaging companies. Firstly, there are no dye or plate charges. So go nuts customizing! Furthermore, we provide free shipping of cheap corrugated boxes anywhere. Outside areas can still order from us at a low cost. Additionally, our turnaround is between 6-8 business days. However, you may be able to put in a rush order to receive your custom printed corrugated boxes earlier, for a small fee.
Customer Care
Trusting us with your custom corrugated boxes needs is important to us. For us to be able to create the right design for you, there need to be open communications between us. Consequently, we have a 24-hour customer care hotline. So if you have any questions or want to talk about anything, just give us a call! Furthermore, to ensure you are happy with the packaging, we can send a 2D and 3D prototypes.
Go-green with Royal Custom Packaging
Our world is changing. But that isn't always a good thing. Global warming and environmental degradation have caused a number of problems for humanity as a whole. To do our part, Royal Custom Packaging has decided to make sure all our custom corrugated packaging can be;
Reusable
Recyclable
Biodegradable
Custom corrugated boxes aren't the only thing we do. Here at Royal Custom Packaging, we make a large number of different custom retail packaging. Go and check them out our custom printed boxes no minimum right here!