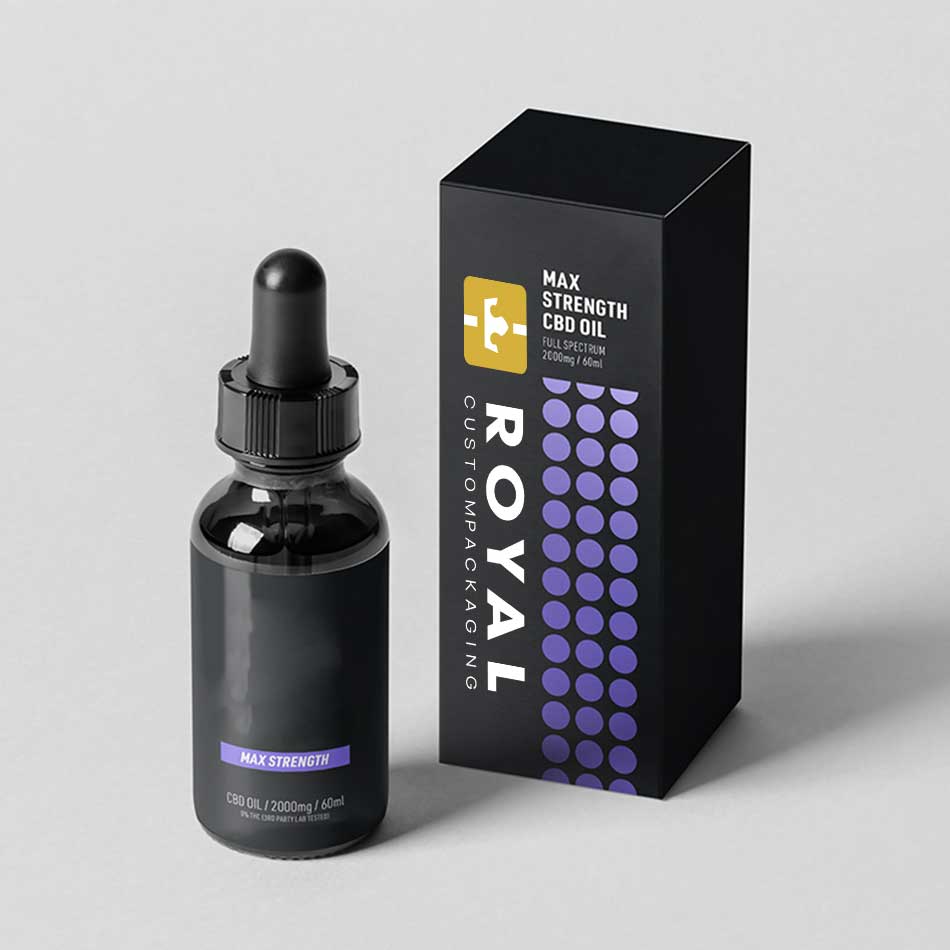 Hemp oil boxes; Hemp oil has been used for a long time for its medical benefit. In the past few years, more and more studies are showing the massive and varied health benefits it has. This has made the business of hemp oils grow drastically in the past few years. This growth has created a market space that is overcrowded. To stand out in an overcrowded market space, packaging becomes an important figure. Custom hemp oil boxes help you stand out and make your mark on the customer. With the ability to customize nearly every aspect of the custom hemp oil packaging, you will be able to create the perfect box. Here at royalcustompackaging, we strive to make the best custom printed hemp oil boxes you have ever seen!
| | |
| --- | --- |
| Dimensions | All Custom Sizes & Shapes |
| Printing | CMYK, PMS, No Printing |
| Paper Stock | 10pt to 28pt (60lb to 400lb) Eco-Friendly Kraft, E-flute Corrugated, Bux Board, Cardstock |
| Quantities | 100 – 500,000 |
| Coating | Gloss, Matte, Spot UV |
| Default Process | Die Cutting, Gluing, Scoring, Perforation |
| Options | Custom Window Cut Out, Gold/Silver Foiling, Embossing, Raised Ink, PVC Sheet. |
| Proof | Flat View, 3D Mock-up, Physical Sampling (On request) |
| Turn Around Time | 4-6 Business Days, Rush |
The most reliable and trustworthy online packaging solution provider!
Hemp oil has many health benefits. It has been proven to be good for the heart, the brain, and skin and pain relief. Despite what many associates with the product, it comparable to vegetable oil or other cooking oils. However, the perception of the product allows for hemp oil to have an interesting place in society. As a result, hemp oil boxes need to reflect the uniqueness of the product. Similar to CBD packaging, custom hemp oil boxes need to be able to stand out and be unique all while protecting the product within. This makes custom packaging the way to go. Complete customization is the only way to ensure that your packaging accomplishes your business goals. Here are a couple of reasons you should use us for your custom hemp oil boxes;
Unrestricted simple customization options for your hemp oil boxes
Basic changes to default packaging can really make a difference to your product's perception in the market. A unique size or shape will instantly grab the attention of any buyer passing by. Wouldn't your eye go straight to the pyramid-shaped hemp oil box in a row full of regular square boxes? Even size makes a difference in terms of how people look at your product. We provide nearly any shape and size you may be able to think of. Just send us the dimensions and we'll figure out a way for your hemp oil boxes wholesale! Moreover, changes to font, color scheme and even what's printed on the hemp oil boxes can really make a difference to product perception. Let's say you want to create an association with nature, to emphasize the natural health benefits it has. Using natural, light colors like green and blue help create that association. Even putting a plant or tree may help create the association. Playing with psychology has never been so easy!
Limitless advanced customization options for you custom hemp oil boxes
If you are looking for more advanced customization, you're in luck! Here, we specialize in the advanced! To be able to take your hemp oil boxes to the next level, we ensure nearly everything on the packaging can be modified. As a result, we provide a large variety of changes to your custom hemp oil boxes. For one, you may create structural or material changes to your packaging. A well-placed window cut out can display your product, while still protecting it. Or adding gold/silver foiling can create a more elegant, expensive look for your packaging. Our other structural changing include embossing, PVC and raised ink. Material changes can help with the customers' sensory experience with your product, while helping it stand out from the crowd. You can use e-flute corrugated, cardstock, bux board and Kraft for our hemp oil packaging. If these aren't enough, we provide add-on's on request. Putting a bow, laces or ribbons on your custom hemp oil boxes can really take it to the next level. Or you could even add a handle! This way you will be able a feature of the product while still maintaining aesthetic! Finally, you can coat your custom hemp oil packaging with either gloss, spot UV or matte.
Experience
In our day and age, the experience of unpacking a product a greatly underrepresented. The euphoria felt while opening a new purchase is an incomparable one. Creating interesting looking packaging can help create a whole new part of the process. The reason I say this day and age is because of the advent of social media. People post things they like on social media. If your packaging is interesting and unique, even if the person does not want to buy it, they will post it. That is free advertising, in a whole new world. By creating custom hemp oil boxes, you can create a package that is sure to go viral!
Cost-effective process
Most business hears our services and assume our costs are high. Honestly, it varies between orders. However, we do institute a couple of policies that help alleviate costs for you. Firstly, there are no dye or plate charges. So go nuts customizing! Furthermore, we provide free shipping anywhere. Outside areas can still order from us at a low cost. Additionally, our turnaround is between 6-8 business days. However, you may be able to put in a rush order to receive your custom hemp oil boxes earlier, for a small fee.
Customer care
When you're in the service business, you must understand that communication is key, both internally and externally. As such, we implement a free dialogue policy. This benefits you through our 24/7 customer care hotline. Through that hotline, you will be able to contact anyone from our team. So if you want to talk to our design team or just want to see how far your hemp oil packaging order is, we are always available. Additionally, if asked, we can provide and 2D and 3D mock up of what your custom hemp oil boxes will look like. This is to ensure you will be more than satisfied by the end product.
Go green with Royal Custom Packaging
Our environment is in the danger zone. We have polluted our land, and as a result, are now seeing the consequences of it. As such, we as a business feel the need to provide environmentally friendly products. As such, all of our hemp oil boxes is reusable, recyclable and biodegradable. Custom hemp oil boxes are not the only products we do. We make the best CBD box you have ever seen. Go check out our CBD product packaging and the rest of our retail packaging.