Mailer packaging is a great way to present your products or services at trade shows, conventions, and other events. It's also an excellent marketing tool for building brand awareness. But how do you know if your mailer packaging is meeting the needs of your business?
This blog post will explore the features that make up quality custom mailer boxes, as well as what customization options are available to help you create a package that reflects your brand!
Custom Printed Mailer Boxes Are What You Need To Showcase Your Business Effectively
Are you looking for the perfect packaging solution to showcase your business? Mailer packaging is a great way to show off what makes your business different. When you are choosing mailer boxes, it's important that they have certain qualities. This blog post will cover three main points: customization options, quality of materials, and features that make good mailer boxes. We hope this information helps you choose the best mailer box option for your business!
Customization Options To Craft Outstanding Mailer Boxes
Custom printed mailer boxes come in a variety of sizes and packaging materials. You can choose from several different colors, styles (e.g., corrugated cardboard or polyethylene), and closures for your box. First, decide what needs to fit inside the package you are mailing out; then consider how important it is that the package be waterproof and sturdy, or if you only care about aesthetics. Once you've considered what your package needs to do for the business, start looking at boxes that fit those criteria.
Materials Options For Crafting Mailer Boxes:
First of all, we will talk about options for packaging materials. You can choose from the following:
Kraft Material – This is the most commonly used material for kraft mailer boxes. This type of packaging has a brown color, and it's lightweight, so easy to use when you are planning on shipping something by post or courier. It's also very sturdy, tear-resistant and water repellant.
Polyethylene Material – It is a transparent material that makes your products look more appealing to the customer/client. It can be used for creating custom printed mailer boxes of any shape or size you wish because this material has a high level of flexibility which allows them not to break, no matter how big or small they are. So if you want something completely unique for your business, then our polyethylene packaging is what will suit you best!
Cork-Board Material – This material is made out of recycled cork tree bark, pressed into sheets that give an elegant design on the surface that adds some glamour in appearance while protecting against minor scratches and dents during the shipping process.
Corrugated Cardboard – It's another popular choice of materials for making mailing envelopes and custom mailer boxes with logos because of its durability and water resistance. It's also very lightweight, so when you are shipping something that needs to be delivered fast, it's a good option. This material is known as the "cement" of corrugated packaging because, together with some adhesive glue and some reinforcement, it provides enough strength for your product not to break during shipment.
Cardstock material – It is a good choice for those who want to make eco-friendly black mailer boxes. This material has a natural feel and look, also it's a bit sturdy. Cardstock can be folded and glued together in the same way as corrugated cardboard to complete your envelope.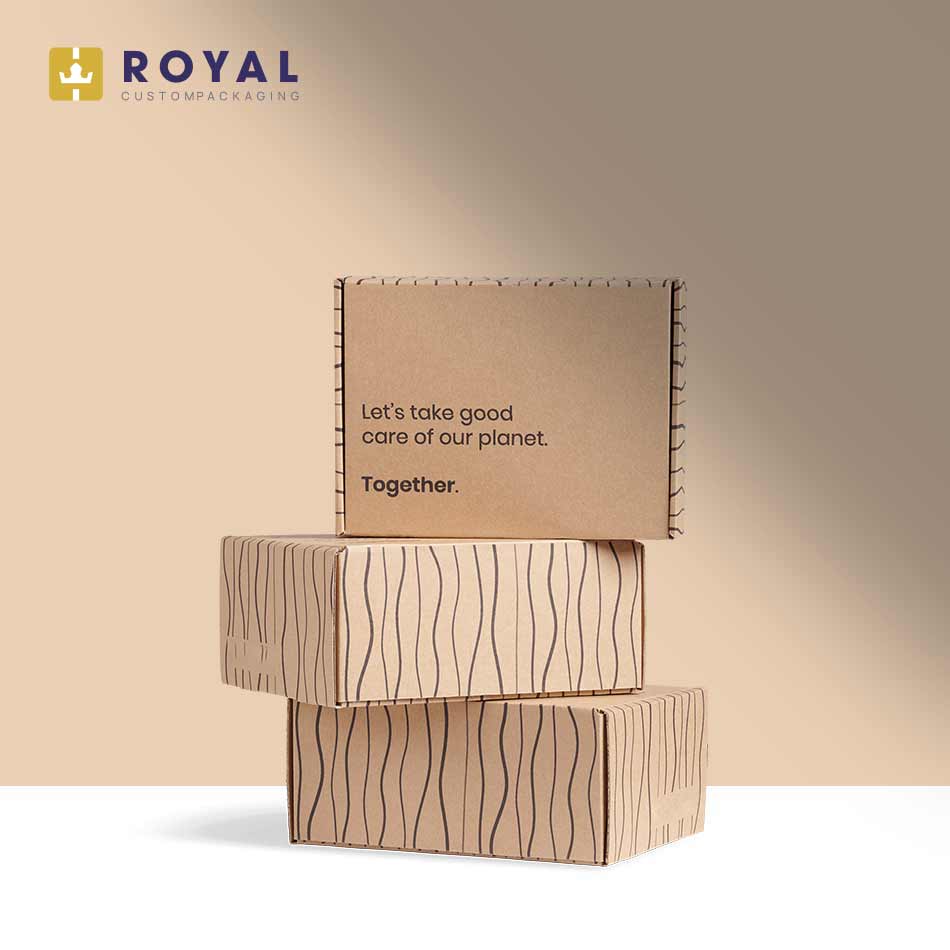 Box Styles For Creating Versatile Custom Mailer Boxes
You can choose from the following styles of custom mailer packaging boxes:
Flat Packed – These boxes are most commonly used by online retailers because the boxes are easy to assemble and they work well for shipping small, lightweight items.
Self-sealing – This type of mailer packaging includes adhesive on the edge so you can seal it easily without needing tape or glue. This makes them great if you will be carrying your package around a lot because there's no chance that your mailer box will come undone.
Self-locking – These boxes are great for shipping small, lightweight items because they don't require a lot of tapes to assemble and close properly. This makes them especially good if you need to ship the package quickly or over long distances.
Tuck-end – This type of custom mailer box is perfect for larger, heavier items because it comes with a protective lining on the inside.
Two-piece mailer box – These are great for shipping larger, heavier items because they have a protective lining on the inside.
One-piece mailer box – This is a great type of mailer packaging for larger, heavier packages because it has a protective lining on the inside.
Features That Enhance The Workability Of Custom Mailer Boxes
When you consider which mailer box to choose based on features, think about what needs your package will serve and then look at boxes with those particular qualities. There are several features that make mailer boxes good for mailing purposes. These include:
Strength – You'll want to look at the thickness and sturdiness of your mailer package when considering how well it will hold up during shipping.
Waterproof – If you are shipping items that could be damaged by water, make sure the kraft mailer box is waterproof before purchasing it for your business.
Adhesive strip – if you want to seal your custom mailer boxes with the logo quickly and easily without needing tape or glue, then look for one with an adhesive strip on the edge of each side.
Recyclable – when you are shopping for custom printed mailer boxes, consider whether or not they can be recycled. If the box is made from one hundred percent recyclable materials, then it will help contribute to a greener world!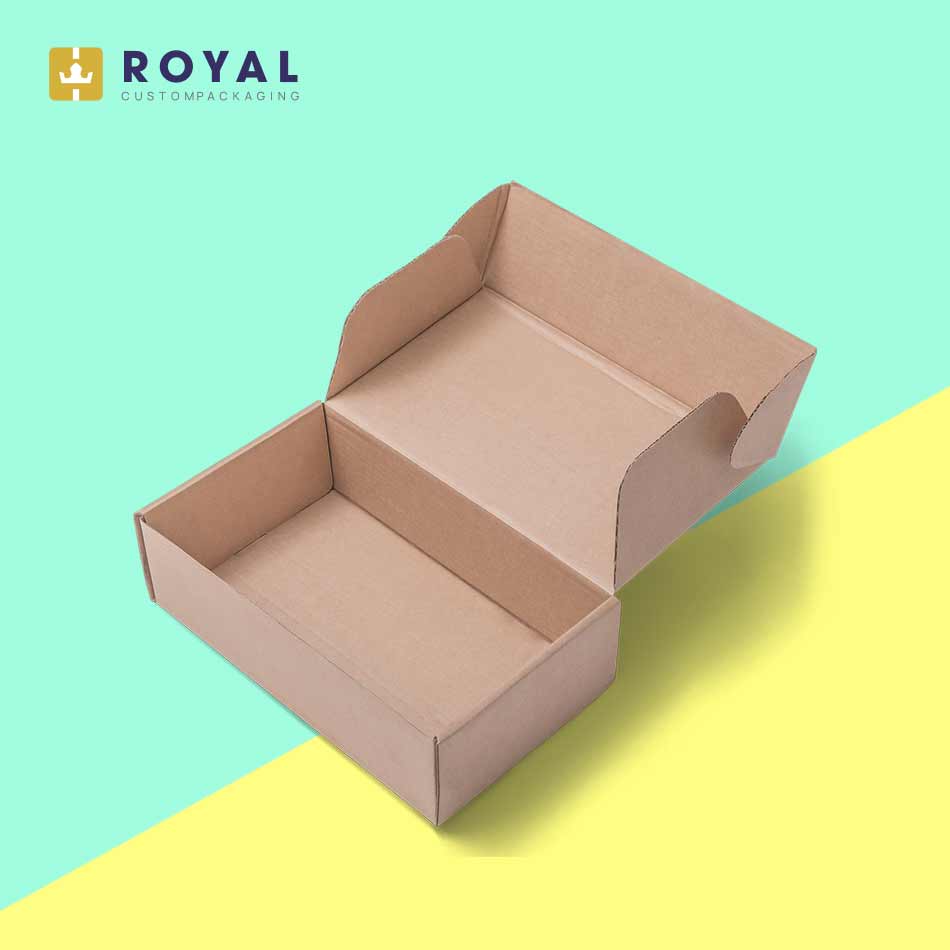 You also should take into consideration the dimensions of your package and how much weight it can carry before choosing a box. We hope this information helps you choose the best mailer box option for your business!
We've all seen mailer packaging boxes wholesale. They are a simple, effective way of transporting and protecting goods in transit. The problem is that they're often just one-size-fits-all: we can't change their size or shape to suit our needs. This is where Royal Custom Packaging comes in! We make it easy for you to get bespoke, high-quality boxes with custom printing – perfect for any business!