A lot of people don't realize that cosmetic packaging design is one of the most important parts of a company's branding. This blog post aims to educate readers about different options they have when it comes to designing and customizing their own cosmetic packaging and cover some general information on what you should know before starting designing your own cosmetic packaging.
The cosmetic industry is a multi-billion dollar industry. Cosmetic packaging design plays an important role in the success of any cosmetics company. The right package can make or break your product, so it's essential to take time and consideration when designing the perfect package for your products.
Why Is It Important To Design Custom Cosmetic Packaging?
Cosmetic Packaging Designers are responsible for creating attractive, informative, and accurate packages that will entice customers into purchasing their product. A good design will help you stand out from competitors on store shelves and online stores.
The world of cosmetic packaging design is as vast as the industry it serves. There are a lot of options to choose from, and they all depend on what you need for your particular product. That's why we're going to take some time and discuss these different aspects of makeup packaging design:
Different Designing And Customization Options
-Options in materials
-Printing techniques
-Color models (CMYK vs Pantone)
-Add-ons/Finishing coats
The designing and customization of packaging ideas for cosmetics are a lot like creating your own clothing line. You get to choose the colors, designs, and materials you use for each aspect. Luxury cosmetic packaging designs can be found in many different shapes:
-Square
-Rectangular/barrel-shaped
-Circular/spherical
-Triangular (pyramid)
…and many more! It all depends on your product and what you want to emphasize about it. Customizing the package for goods cosmetic is a very important process, especially when designing for clients because they know their brand best.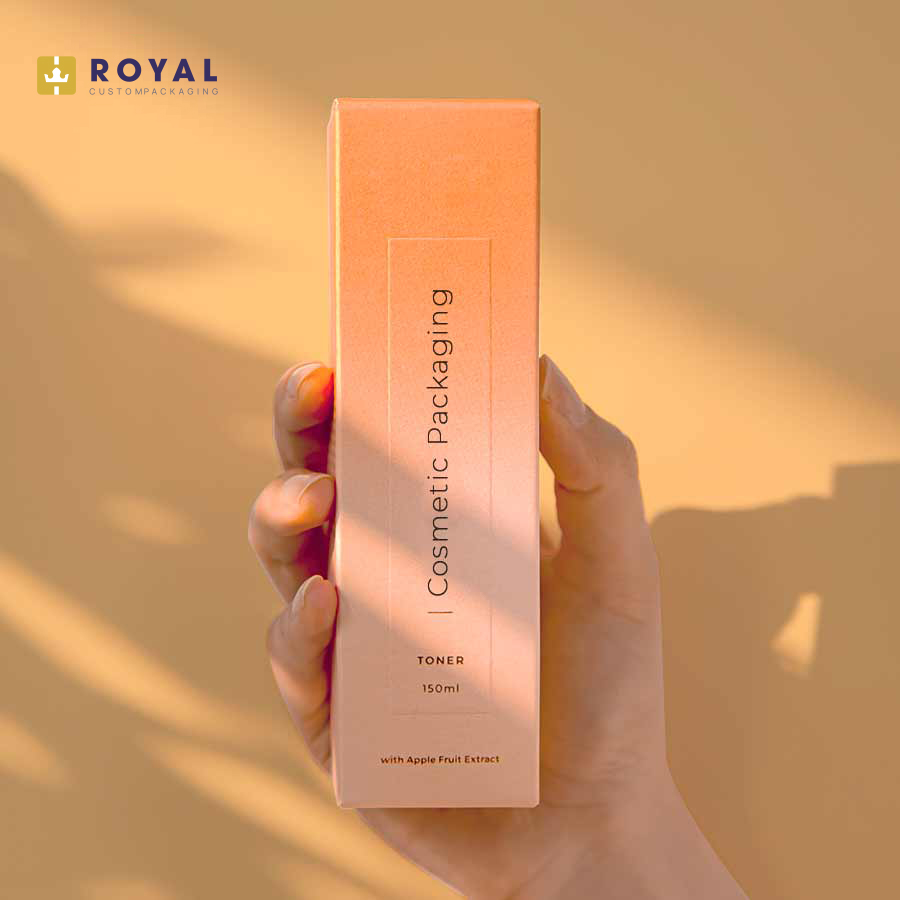 Picking A Packaging Material To Craft Cosmetic Boxes
Choosing a packaging material to craft makeup packaging is crucial in the design process. That's because you need to know how your skincare packaging idea will look like and what processes it will go through. Some of the most common materials used in cosmetic packaging include:
Cardstock material
Very sturdy and thick, so it's great for creating boxes. They can come in a variety of colors and finishes (glossy or matte).
Plastic
Very versatile material that can be used to create many different types of packaging items such as bottles, jars, pots, tubes, etc. Plastic is also preferred over other materials because it has more durability than paperboard/cardstock. That means you get less breakage during transporting and storing your product.
Paperboard
This type of material is best used when the design only involves one color with no printing on top of it (i.e., embossing/debossing). This way, there won't be any misprints due to ink bleeding through the material.
Metal
This is a very durable material that can also come in different colors and finishes (e.g., matte, metallic). It's more expensive than the other types of packaging materials, but it looks really nice on cosmetics because it highlights their sleekness/shine. This type of cosmetic box usually requires die-cutting for opening purposes (i.e., tear tabs) or hinged lids with magnets attached to them, so they don't fall off easily when moving around your bag, etc. So you have to make sure these features are compatible with whatever design you choose before finalizing anything!
Kraft paper
This is the most common material used for packaging because it's very affordable and has a nice feel to it. Kraft paper can come in either brown or white, so you have plenty of options when choosing your cosmetic box design! The downside of using kraft paper is that they look really plain and simple (i.e., no shiny features), which might not attract customers as much as other materials would. To make it look more appealing, you will have to customize it with attractive print designs and add-ons.
Printing Techniques For Cosmetic Packaging Designs
Printing techniques can make or break your design of package goods cosmetics, especially when it comes to paperboard packaging. That's because they require thicker ink in order to fully appear on the material and give that nice luxurious look we love so much about cosmetics!
Offset Printing:
This is the most common printing technique nowadays, and it's used to create high-quality cosmetic packaging designs. It involves large presses that print thousands of copies per hour, so you get a really nice finish on your boxes with no smudging, etc. However, the downside of using offset printing for cosmetic packaging design is that they require more time than other techniques (e.g., screen printing), which means higher costs as well!
Digital Printing:
This is also a great printing technique when it comes to cosmetic packaging designs. It involves the use of digital printers, which are much smaller than offset presses (i.e., desktop printers). These types of boxes look just as good (if not better), but they're way cheaper and require less time, so you can get your products to market sooner by designing your own cosmetic packaging!
Add-Ons For Cosmetic Packaging
You can further enhance your cosmetic box designs by adding some add-ons for that extra touch of sophistication. Adding ribbon, hangtags and tags are a great way to draw attention to your product! They also give the consumers an opportunity to see what you're selling from afar so they can be attracted even before reaching it.
Finishing Coats For Cosmetic Packaging
The last step in the process is creating finishing coats or film laminations on top of your boxes/packaging items. This will protect them from getting damage, which increases their durability and ensures hygienic conditions as well!
Most commonly used finishing coats include:
-Gloss Coating
-Matte Coating
-Varnish/Lacquer Finishes
-Soft-Touch Finish
Draw Customers' Attention With The Alluringly Presented Products
To create a truly captivating and unique packaging design for your cosmetics, you should consider the different types of materials available to you. You'll want to take into account factors such as durability, costliness, and time that will go into creating it before settling on anything in particular. Printing techniques are also an important factor when it comes to cosmetic packages because they're what make them look luxurious! Take care not to overlook add-ons like hangtags or ribbons and finishing coats which can help draw attention from afar while giving customers the opportunity to see your product up close. Once all these factors have been taken into consideration, finish off your packaging design so that your package is protected against wear and tear and looks absolutely interesting.